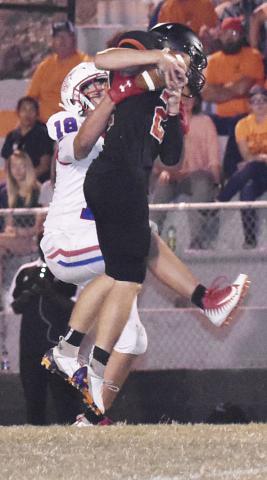 ARLEY - The Meek Tigers had been preparing all week to face the Berry Wildcats Friday, Sept. 20, for homecoming. Even though it was a close game, Berry handed Meek the defeat 36-30.
Homecoming was held before the game started. Madison Smith, Class of 2023 and daughter of Shawn Smith and Amy Perdock, was crowned junior princess and was escorted by her father. Her flower girl was Maddie Robison, daughter of Blake and Hollie Robison. Smith was crowned by last year's recipient, Belle Cleghorn.
Senior princess selected was Courtney Lane, Class of 2021 and daughter of Jeremy and Allison Lane. Her escort was her father, and her flower girl was Eden Aaron, daughter of Cody and Kristina Aaron. Lane was crowned by Savannah Smith.
A surprised Taylen Stone was chosen as homecoming queen. She is the daughter of Randole and Karla Stone and was escorted by her father. Her flower girl was Lindy Rothman, daughter of Joey and Jennifer Rothman. Stone was crowned by Brooke Cleghorn.
Other contestants included Avery Archer, Class of 2025, daughter of Lance and Lauren Archer and escorted by her father, with Cesily Jordan, daughter of Jonathan and Bethany Jordan, as flower girl;
Laney Phillips, Class of 2024, daughter of Robert and Amber Phillips and escorted by her father, with Bailey Edgil, daughter of Chad and Jennifer Edgil, as flower girl;
Sunnie Manning, daughter of Joe Manning and Monica Stewart and escorted by her father, with Collins Farley, daughter of Jason and Ashley Farley, as flower girl;
Kailin Rivers, daughter of Danny and Janene Rivers and escorted by her fiance Dawson Cotton, with flower girl Isabella Maria-Inez Stover, daughter of Joe and Susan Beth Stover, as flower girl;
JessIe Woodard, daughter of Mark Woodard and Jamie Gurganus and escorted by her father, with Harper McCay, daughter of Andy and Kristen McCay, as flower girl and Reagan Aaron, Class of 2022, daughter of Anthony and Leslie Aaron and escorted by her brother Caleb Aaron, with Kyleigh Baker, daughter of Jesse and Cameron Baker, as flower girl.
Meek kicked off to Berry to start the game, and the Wildcats immediately began starting to work the downs and after 41 yards, got the first touchdown with Johnathan Locke running the ball over the line. The PAT was no good, but Berry was up 6-0. Meek kept their offense going strong, but could not break the line during first quarter, though Meek's Quarterback Stuart Waldrop got near the Berry end zone.
When the second quarter rolled around, Berry's Tyler Lollar took the ball for another touchdown, after a 38-yard run. With the PAT no good, the score stood at 12-0. Berry soon had the ball back after Meek fumbled on first down with Richard Mayfield recovering for the Wildcats.  Berry couldn't capitalize on the turnover, however, and Meek soon had the ball back.  Meek's Matthew Clark took off on a 48-yard scamper to the end zone. Their PAT was no good either, making it 12-6.
Berry turned up the heat on their next drive, with Tyler Lollar answering Meek's touchdown immediately with one of his own.  The PAT failed, but Berry was up 18-6.
Meek decided they didn't like that, so on fourth down, a pass was completed to Bryson Hudson, who took it for a touchdown.  Meek converted for two more, and Berry's lead was narrowed to 18-14 at the half.
The beginning of the third quarter saw a complete pass to Meek's Trinton Ory for a touchdown after going for it on fourth down. Even with a false start penalty against Meek, their two-point try was good, putting Meek in the lead 22-18.
After several plays, Berry came back, with Gabe Jones upping the score 24- 22, after a 50-yard drive capped by a 16-yard touchdown run.
Meek punted after going three-and-out, and as Berry crept closer to first down, Waldrep intercepted a pass, giving Meek time with the ball.
Tensions rose during fourth quarter, and Meek worked their way to Berry's six-yard line but was forced to punt, putting Berry back on offense. As Berry worked their way up the field, Locke broke away with a 44-yard touchdown run.  The PAT was no good, and that left the score 30-22 in Berry's favor, but Meek's Clark answered right back with a 43-yard touchdown run, tying it up at 30 after the two-point conversion.
As the game ticked down to the final few minutes, Meek's Ory intercepted and passed into the end zone, but a penalty against the Tigers caused the touchdown to be invalid. A long pass appeared to be caught by Meek's Tommy Daniel near the end zone, but the officials ruled it an incomplete pass, and Berry was back on offense. A Berry fumble was recovered by Hudson, but Meek wasn't able to make the chains, and it was fourth down.  The Tigers went for it and got a fresh set of downs, but were intercepted by Berry's Matthew Westbrook on second down. Berry's Joel Gray made it first-and-goal then ran it in with 2:55 left in the game, leaving the final score to stand at 36-30.
Meek had 132 rushing yards and 263 passing yards in the game, while Berry rushed for 229 yards and passed 133 yards.
Berry will host Donoho Friday in a non-region matchup, while Meek will travel to Sumiton Christian.