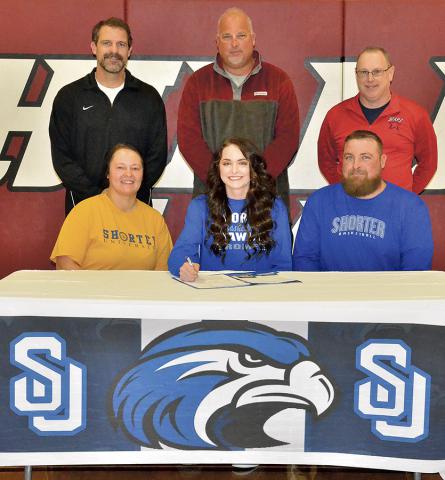 BEAR CREEK - There were lots of smiles and tears as Ally McCollum signed her basketball scholarship with Shorter University Friday, Nov. 22, marking the start of a new chapter in her life.
Ally, a senior at Phillips High School in Bear Creek, will play for the Division 2 college in Rome, Georgia.
A scholarship signing ceremony was conducted in the PHS gym with students, teammates, faculty, friends  and family all on hand. She received a big round of applause as she signed on the dotted line.
Ally said she was torn between Montevallo and Shorter. "I have visited Montevallo several times, but I just loved the campus at Shorter," explained McCollum about her selection. "Everyone there seems so friendly and family-oriented. I just love it.
"That is how it has been at Phillips. I was nervous when I first moved here, but everyone has made me feel like I have been part of the family all of my life. It has been absolutely wonderful. I enjoy playing with my teammates. We were state runners-up in basketball my first year. Last year, we won the the state championship. We made it to the final four in volleyball this year. It has been a great run so far and I am looking forward to repeating this season. I know there is a lot of pressure as returning champions, but we play as a team. Everyone knows they have a job to do."
Ally laughed as she talked about her love of basketball, "Ever since I was in the fourth grade when I started playing basketball, I told my dad I was going to play in the WNBA. That was the first sport I ever played and have always loved it."
She expressed her appreciation to her head coach Scott Veal, her AAU coach Bryon Veal and trainer Blake Franks. "I could not have made it without a lot of people helping me," she said tearing up. "My family has been so supportive. They are always there for me and I love them."
Principal Dr. Al Temple welcomed everyone to the event. "We are here to celebrate Ally. This is happening today because of years of hard work and dedication that has helped her reach this goal. This is the beginning of our basketball season and a good way to start it, too."
Ally is the daughter of Jason and Ashley McCollum. Her dad commented, "She has played every year since the fourth grade and AAU every summer from the seventh grade.
"She gave up her summers to play AAU. That  says a lot about her willingness to work hard," her dad pointed out. "Her work ethic is so good. She is a winner. When it comes to big games, she plays her best. Ally knows how to handle the pressure. You can definitely say that Ally is a go-getter and I am so proud of her."
Ally transferred from Hamilton to PHS when she was a sophomore. "This broadened her opportunities when she came to Phillips," said her dad. "Last year, we won the state championship in basketball. This season we made it to the final four in volleyball and we have a good start on this basketball season. Phillips is a very competitive team. It has been good for Ally."
What little down time Ally has, she enjoys just being at home and watching movies with her family and buddies. "I don't have a lot of time to be at home, but when I am it is about being with my family. I love to watch movies and just chill out."
Ally has five siblings.