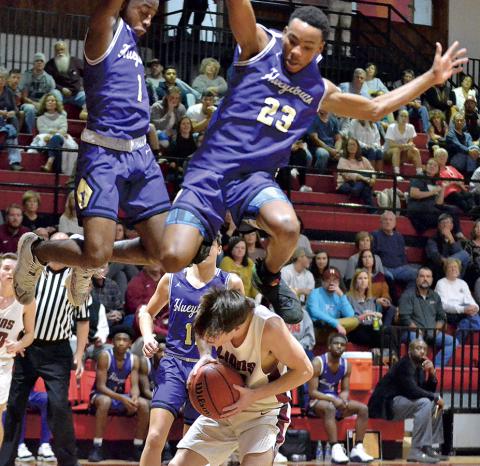 HALEYVILLE - A three-pointer by Haleyville's Clay Blanton gave Haleyville a one point lead with eight seconds left  in the basketball game Thursday night, Nov. 14, 71-70. 4A Haleyville battled and lead 6A Hueytown most of the game.
The Gophers threw  in the ball  and a half-court stringer took the  victory 73-71 for the visitors on the season opener.
The HHS Lady Lions  gave the Lady Gophers all they wanted, leading by seven in the first quarter and four points at the half.  
The Lady Gophers made adjustments in the second half, winning in a close one 56-48.
Molly Gilbert was the leading scorer for the HHS Lady Lions with 15 points. Kaytee Beth Boyles was close behind with 10 points.
In the boys game, Grayson Long had 5 points, 4 rebounds and 3 assists;
Braxtan Tollison had 19 points on the night, with five 3-pointers;
Gavin West had 3 points, 3 steals, 4 assists;
Blanton sunk 31 points, 2 steals, 3 assists;
Rome Yarbrough had 6 points, 7 rebounds, 3 assists;
Grant Dye put in 6 points, 8 rebounds, 1 assist, 1 block.