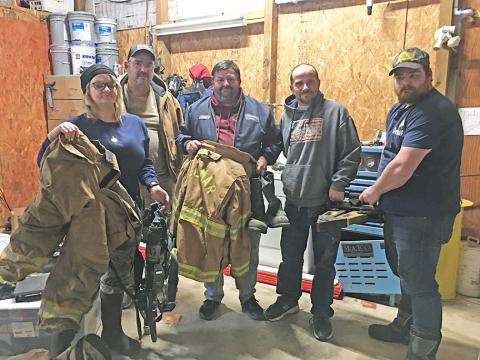 WINSTON COUNTY    - Rural fire departments are telling their stories from within, describing outdated equipment, conservation of fuel and other concerns due to a lack of funding.
Arley Fire Chief James Rickett spoke on Thursday, Jan. 21, as an advocate for rural fire departments across Winston County, addressing members of the Winston County state legislative delegation during an annual meet-and-greet event at the Haleyville Middle School cafetorium.
Rickett urged the state to look into some type of bill or funding to help more rural departments, which are struggling financially, often to the brink of closure.
"The municipal fire departments are funded pretty good," Rickett said. The Arley department receives around $1,200 each year from the Alabama Forestry Commission.  Cullman Electric Co-op also collects fire dues for the Arley Fire Department automatically through customers' electric bills.
Even though the Arley department receives funding and its needs furnished by its town council, Rickett can see where the department would be struggling if left on its own.
"Our biggest concern right now is the departments on the other side of the county that have no funding whatsoever," Rickett pointed out. "They live off that $1,100, $1,200, plus their fundraisers. They are constantly doing fundraisers.
"Because of COVID, they are not being able to do all of that, so that is really hurting them," Rickett said.
Fire departments  also provide medical services.
"Tough is not the word for them," Rickett pointed out. "They are doing all of this work, and nobody is helping them."
Ashridge Fire Department is one of those rural departments struggling without support from any town council or government.
"We have fire dues, and if we can get donations, that's how we get (funding)," said Ashridge Fire Chief Dewayne Baker.
The Ashridge department typically leans on fundraisers, but has not been able to have fundraisers due to the COVID-19 pandemic, Baker said.
"It's hard to say on a fundraiser. If we make $300 that month, that's all we bring in that month," Baker said about monthly finances. "Whatever we can raise and get donations for, that's basically what we have to survive."
During the past 11 months of the pandemic, the Ashridge department has had to stretch their donations as much as they can, Baker explained.
"We haven't even be able to buy any propane for heat for our station all winter," he pointed out.  "We have to cut back where we can."
The fire department also must keep a close eye on its fuel bills.
"A lot of the firemen will pitch in and pay for fuel," he said.
"We're pinched as tight as we can go right now," he added. "Our equipment, a lot of that needs to be replaced, but we don't have the money to do it."
The department's 18 air packs are near being out of date, with the department looking at $2,000 to $3,000 per set, including the air tank and air packs
"A lot of our gear is wearing out, and we need to replace it," he said. A less expensive set of turnout gear would cost $2,000 to $4,000 per person, he added.
"About every one of our guys needs a set of turnout gear. It's been almost 10 years since we bought new turnout gear," he said, adding the department currently needs at least 20 sets of turnout gear.
So far this year, maintenance on fire trucks has been minimal other than some gears that needed to be replaced, Baker stated.
"If we start having a bunch of fires or a bunch of calls, we are going to need something to cover fuel," Baker said.
 The Ashridge community does provide some assistance. The fire department is sending out notices for fire dues, which are paid by only a portion of the community.
Annually, Ashridge receives $40 per household in fire dues, but at least 60 percent of the community is failing to pay their fire dues, according to Baker.
"If we get $200, $300, it helps us a little bit. Then again, it's only one time a year, but that might be one month's worth of fuel for the trucks," said Baker.
In order to receive grant funding, the department must apply by listing their budget on the application, he said.
"We can't set a budget because we don't have one," Baker said.
"These departments that are funded, they know the kind of a budget they have every year," he said. "We can't, as strictly a volunteer (department) that doesn't get funding except for what we can raise."
Arley firefighter George Gibson urged the communities to pay their fire dues and help support their local fire departments.
The Arley department collects a voluntary $3 fee on their customers' Cullman Electric bills each month.  That same service is provided to other fire departments in Cullman Electric's coverage area on the county's east side, Rickett explained.
Thinking back to when the department had to go out and collect fire dues, they received very little response in return, Gibson said.
"That is what's happening to these  fire departments," said Gibson. "There are some that just don't pay their fire dues."
Delmar Fire Chief Ray Cantrell noted the department has considered shutting down in the past due to critical financial struggles.
"We have to be self-sufficient," Cantrell said. "The only outside funding we  will get is about an $1,100 forestry check every year  that every department in the state gets, and it's never the same (amount).
"That barely covers a full month, especially if you have a busy month and buy a lot of fuel," Cantrell pointed out.
"We might spend $300 this month in fuel and spent $30 next month," Cantrell said, depending on the number of calls they receive.
Although the Delmar department shut down fundraisers due to the pandemic, they were forced to restart them in order to stay afloat, according to Cantrell.
"Last year when they shut us down, we went two to three months without fundraisers and it almost hurt us," he said. "We would never survive, so we went back to doing (fundraisers), just taking better precautions."
The department also has to pay power and water bills, as well as insurance, which, Cantrell said, is very high at  almost $300 a month for the buildings, trucks and equipment.
The Delmar department is currently paying on a bank note. Since the department has not been able to receive grants, the department had to take out a $7,300 loan in order to purchase a 1997 model firetruck, Cantrell explained.
The fire dues, at $35 per household per year, that are paid by the Delmar community are half of the department's income, the other half coming through fundraisers, he said.
 "We're getting by day by day," said Cantrell. "If it wasn't for the strong will of the members and the dedication of all of our guys, there would not be a fire department."
Cantrell does not have much faith, he said, in state officials helping the situation, with funding opportunities in the past being "shot down" at the state level.
The department attempted to get a tobacco tax passed that would have gone to help the fire department. "(The state) wouldn't even let the people vote on it," Cantrell said.
The Delmar department also faces maintenance issues on its vehicles.
"If a pump goes out on a truck, that's $20,000," said Cantrell, noting that the department is losing a truck for that very reason.
"That truck's going to the scrap yard, because we don't have $20,000," Cantrell said.
Assistant Chief Keith Tolkacevic, who writes grants for the department, said the department gets turned down each year.
"One in 100 might pay out," Tolkacevic said.
Firefighter Zena Ingram cited issues with the department's communication radios.
"Communication is key when you have a call," Ingram said.
The communication radios, provided by a grant nearly eight years ago, are becoming outdated, meaning radios are often either provided by other departments or paid for firefighters from their personal income.
"Some of our pagers don't work very well because they are so old and outdated," Cantrell said.
The Double Springs Fire Department, like Arley, receives funding and support from its municipality, noted Lt. Erik Gilbreath.
"It's a blessing, really, that we don't have to worry about where  our money is going to come from," Gilbreath said.
"We try to be good stewards with what's given to us. We try to keep a good supply of medical supplies.  Those are necessary things you have got to have," he added.
The department does not have many fundraisers, but did feel a financial difference when the annual gun  show, normally held each October to benefit both the fire and police departments, was not held last year due to COVID.
"That hurt us," said Gilbreath. "We had to tighten the belt just a little bit, certainly not as much as these other departments.