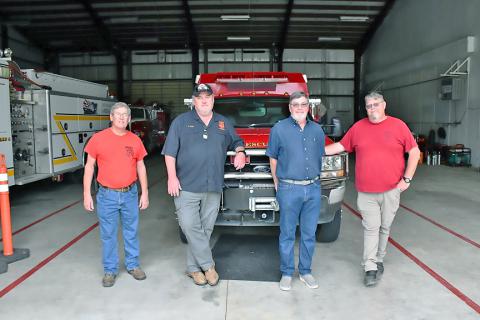 ARLEY - Previous attempts to see an ambulance stationed on the east side of the county having failed, a non-profit organization called the Winston County Rescue Squad is being formed to provide 24/7 ambulance service to the area.
Background
The Winston County Firefighters Association (WCFA) and the Addison Town Council both recently asked Regional Paramedical Services (RPS) to station an ambulance on the east side of the county, and the Addison and Arley Town Councils also invited Greg's Ambulance Service of Moulton to station an ambulance in their towns.
While the owner of Greg's Ambulance Service visited the Arley Fire Department as recently as February to discuss renovations that would create living quarters for ambulance crews on the second floor, Fire Chief James Rickett broke the news to the Arley Town Council that Greg's was not
going to begin operating in Arley at its regular monthly meeting, Monday, May 1.
Rickett said the owner of Greg's did not want to "start an ambulance war" with RPS.
During its Jan. 31 monthly meeting, the WCFA had presented RPS representatives with a letter that asked for "20-30 minute ETA (estimated time of arrival) response to all Winston County calls," with times provided by Winston County 911; "three ALS  (Advanced Life Support) trucks in the county with two paramedics on all shifts; one ALS paramedic truck on the east side of the county; and GPS accountability with Winston County 911 for all Winston County trucks."
RPS Director of Operations Robin Earley told the association that night that RPS did not have the resources to devote an ambulance to the east side of the county or to staff more ambulances in the county with paramedics. She said using ambulances staffed with advanced EMTs or even Basic Life Support (BSL) ambulances "to work as lead" on calls was RPS's way of keeping ambulances in the county amid a national emergency medical services staffing shortage.
"If we had to have a medic on every truck in Winston County, y'all would have one truck a day for the whole county," Earley said.
She added that RPS would be willing to consider stationing an ambulance on the east side of the county if the WCFA or another entity was willing to pay RPS a subsidy but that the best option was for one of the fire departments in the area to "invest your money into a transport system" and staff it.

The latest
Since that meeting, Helicon Fire Chief Neil Feist and Assistant Chief Greg Ackley had been exploring the possibility of Helicon Fire Department providing ALS transport when Arley firefighter Beverly Kelly introduced Ackley to Pat Hanna, Feist said.
Hanna retired last year as United States magistrate judge in Lafayette, La., and became a permanent resident of the Arley area, though he's had ties to the community since 2016. Before becoming a lawyer and then a judge, he was involved in search and rescue work as a member of the U.S. Coast Guard.
After hearing about the state of ambulance service in the area, Hanna met with several fire chiefs from departments on the east side of the county and told them he believed he could help them.
"I was like, 'I can't believe this. This is not right,'" Hanna said while addressing the Arley Town Council May 1. "I was told that there are people that have not survived because of the response times, and that's just not acceptable."
"So, I met these wonderful guys," he continued, "and I said, 'I don't do what you do, but I know how to go find money. So, let me go see if I can find some money.'"
Hanna elaborated, "I went and called on some folks back where I'm from, and we have enough cash to fund at least one of the units that were shown to me the other day already from people who don't even know where we are," he said. "And I don't intend to let up on that a bit. I'm going to be a beggar and a groveler or whatever it takes. But there are folks out there that want to help when they hear this story."
He also said, "There's a lot of money in (the area) that's not being tapped from folks that aren't here permanently, but they sure should write a check, and I'm not bashful about asking. I'll go ask them all day long. Because it could be their grandkid, right? Or, you know, they come out here and have some ridiculously bad thing happen to them ( . . . ). So, that's the plan. I'm here to help. I don't really want anything else other than to be able to help you folks as best I can."
Hanna is now the president of the Winston County Rescue Squad's Board of Directors. He pointed out that it is not a paid position.
The rest of the board members are representatives of the Addison, Arley, Central and Helicon fire departments: Rickett (Arley FD), Feist (HFD), Darrell Smith (Addison FD) and Ashley Tucker (Central FD).
In addition to seeking donations, Hanna is looking into a variety of funding sources, including the Walker Area Community Foundation and United Way.
He said, "I would love to be able to go to the citizens (of the area) ( . . .) and say, 'We have this in place. It will exist, and it's going to serve you, and we won't need your help until it's here. And then you will need to help it support itself.' I think that's a good selling point for something that's really kind of needed."
Hanna was working on the paperwork to file for tax exempt status as a 501(c)(3), he said. As of May 11, he hoped to have it submitted by this week or at least the end of the month.
Rep. Tim Wadsworth has already filed articles of incorporation with the state of Alabama; establishing a nonprofit corporation with the state is the first step of launching a 501(c)(3) organization.
"He's helped us with the legal parts," Rickett said. "Tim's really been good at that."
"I actually prepared the articles of incorporation and bylaws for the Winston County Rescue Squad at no cost," said Wadsworth. "The purpose was to provide ambulance service on the east side of Winston County, which would be Houston, Addison, Upshaw, Arley, Helicon and Nesmith."
WCRS' plans
"The goal is to, hopefully, by the fall—it's a lofty goal—have an ambulance sitting over here in Arley Fire Station that's Winston County Rescue Squad that is staffed 24/7, 365, to run calls," Feist told the council. "And RPS is in support of that." He added, "Our intention is not to compete with them. Our intention is to support this side of the county."
"RPS is excited to see these communities grow in such a way the entire county can benefit from it," Earley said. "We have met with these departments and we support their efforts to lower ambulance response times. We will assist them in any way requested and look forward to working alongside of them."
Rickett said the plan is to start out with a used ambulance that will be stationed at the Arley Fire Department and to expand by stationing a second ambulance in Addison at some point.
"There is going to be a paramedic on the ambulance," he said. "It'll probably be (an) advanced (life support ambulance). We're hoping to have this all set up within five, six months. We're still looking (for an ambulance). It's hard to find a used ambulance that's not wore out, and we don't want that because we want it to be reliable. Hopefully, we'll have something picked out by the end of the month."
"We're rocking and rolling," Hanna assured the Arley Town Council on May 1. "I have checks I can't put in the bank because I don't have a bank account yet, and that's a really, really good thing."
Since then, a bank account has been set up at BankFirst in Arley, and anyone who would like to contribute may make a donation at the bank. Contributors may also mail a check to the bank at P.O. Box 117, Arley, Ala., 35541, or to the WCRS itself at P.O. Box 471, Arley, Ala., 35541.
Hanna said it is his understanding that donations made now should still be tax exempt even though 501(c)(3) status has not yet been granted. "It just will take the government a little time to catch up with (us). I certainly don't see any obstacles to that, at this point. We fit the criteria."
"I don't want to hear this summer that somebody didn't make it because there wasn't an ambulance there in time," Hanna continued at the council meeting. "I would love to have somebody here for Memorial Day. That may not happen, but I also dream very big. I like the idea of boats on the lake that would be run by this group of professionals."
He later explained that traveling by boat could in some cases allow first responders to reach a location more quickly than they could traveling by road. "The idea is to get where you're needed in a hurry," he said, adding, "I don't view that as something that's so far off in the distance."
He said he also hopes to come to an arrangement that would allow patients to be transported to the Arley FD helipad by the WCRS and then taken from there to a hospital by helicopter. Fulfilling that dream might mean getting a beacon that could guide instrument-only flights to the helipad.
"It might be a pipe dream, but if you don't dream big, then you may as well not dream at all," he said.
Wadsworth had praise for everyone involved in bringing the WCRS into existence. "We commend the folks involved in the Winston County Rescue Squad for what they initiated and what they're trying to do to save lives in Winston County," Wadsworth said. "Without the help of the five people that have been identified (in the articles of incorporation as the board of directors) and the fire department folks associated with this project, east side lives would be lost. They are highly commended for giving their time and service to the citizens of Winston County. I think it's absolutely great for them to do what they do. (It's a) major accomplishment for the citizens of Winston County."