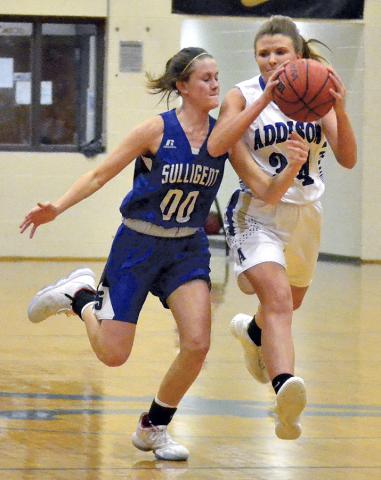 ADDISON - The Addison Lady Bulldogs won in overtime against Sulligent Monday, Feb. 3, in 2A Area 13 tournament play by a score of 63-58.
The Lady Blue Devils maintained the lead throughout the game, with Addison tying the game with 2:30 left in the fourth quarter at 46-46. The buzzer sounded tied at 56 all to end regulation play. It was nip-and-tuck during the four minute overtime period, with AHS coming out on top by five points.
Stats for the Lady Dawgs included Savannah Manley leading the scoring at 16 points, with 12 rebounds. Callie Crider was close behind with 15 points and 22 rebounds. Bracie Rodgers added 12 points, 2 assists, 1 rebound.
Kaylee Brummett also had 12 points with 4 assists and 3 rebounds; Gracie Manley, 1 point, 6 rebounds; Macey Butler, 7 points, 3 rebounds, 1 assist and 1 steal.